Business Periodicals – Subscribers 
AccuList® can help you find the best lists to reach subscribers of paid and controlled circulation publications.  Compare over 50 targeted lists from leading publishers and others. For questions or to place an order, call us now at (877) 505-4787 or (210) 807-9940.
Active subscribers to paid and controlled circulation;
Book buyers having specific interests;
Digital or print edition subscribers;
Known subscribers at work, home, or waiting room address;
Newsletter subscribers;
Reach top-level executives by industry or job title/function.
PARTIAL CLIENT LIST:
---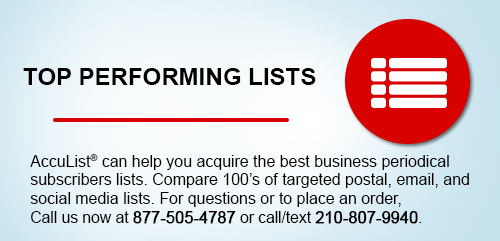 American City Business Journals
Automotive Industries
Creative Age Publications, Inc.
Cygnus Business Media
Los Angeles Business Journal
Presentations Magazine
San Diego Business Journal
San Fernando Valley Business Journal
Sage Publications, Inc.
Trade Press Media Group
UBM Advanstar
Wiley: Jossey-Bass